Site Contents
This site is about Rick and Jean Seavey's love affair with Everglades National Park since they moved next door in 1984. The goal was to learn as much as possible about it's tropical/subtropical nature and contribute to it's preservation. Little did we know where it would lead. Links tell about some of the high points. We started big with volunteer support from park employees and huge numbers of community volunteers (primarily from the many nature-oriented volunteer organizations in the area). This was before computers and the internet so reports are a little rough. It is grinding down with the most complicated and difficult, lichens, which has a whole section of it's own. Lichen study was made possible by the support of professionals, computers, the internet and the park supplying us with a laboratory. Our work always concerned something that needed attention but was not getting it.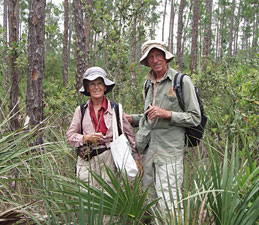 Rick and Jean in park backcountry.
Photo by Bru Randal.
Selected Projects:
1987-1994: Removal of Shoebutton Ardisia, Ardesia elliptica, from Royal Palm Hammock, 8 other invaded hammocks and 2 invaded roadbeds. Click links above for detailed discussion.
1985-2000: Updated the Everglades National Park herbarium adding over 50 new park species, as well as, one new to the United States, Cuphea strigulosa. When we began this project, the 20 to 40 year old collection had been allowed to deteriorate necessitating new voucher specimens for nearly all park species. The park's vascular plant checklist now contains over 1100 species.
1989-1992: Collaborated with the University of Miami Department of Biology (through Dr. Carol Horvitz) in Shoebutton Ardisia, Ardisia elliptica, research in Everglades National Park. This work involved measuring plant growth, seed rain and bird seed distribution.
1990 & 1991: Collaborated with the University of Miami Department of Biology (through Dr. Carol Horvitz) in plant research at Corcovado National Park in Costa Rica for 2 summers.
1995-1999: Led biannual Everglades National Park field ecology weekend courses for University of Miami botany doctoral students. 2004: Co-led (with Dr. Carol Horvitz) a one day exotic plant treatment research study session.
1995-1999: Isolated a fly, Melanagromyza miamensis, a named species with no specimen and endemic to the Flamingo area of Everglades National Park where it infects the flower stalk of the Mule Ear Orchid, Trichocentrum undulatum. This orchid is rare in the United States, found only in the Flamingo area of Everglades National Park. We have yet to record our studies of this interesting fly/orchid association. Click links above for more detailed discussion.
1996-2001: Wrote a 7 year proposal in collaboration with Anthony Terry, Assistant Director (currently Director), Flamingo Ranger District, Everglades National Park to eradicate non-native plants from the 19 km stretch of beach and prairie at the extreme southwestern edge of Cape Sable in Everglades National Park and followed the proposal to completion. This proposal was funded in 1996 and with support from Flamingo District Rangers work began in the same year. Click links above for more detailed discussion.
1997: Assisted Project Amazonas Science Director, Dr. Devon Graham, on the Rio Orosa, a tributary of the Amazon, in Peru for a season.
1996-1998: Collaborated with Shun Fu Wu, a doctoral student at the Center for Remote Sensing and Mapping Science (CRMS), at the University of Georgia (UGA) to create a CD on the plant communities of Everglades National Park.
1999-2003: Worked with CRMS at the University of Georgia to create overstory and understory vegetation maps of Great Smoky Mountains National Park, as well as, the first fire effects maps based on eastern species.
2003-2009: Worked on vegetation maps of Blue Ridge Parkway in the employ of CRMS at UGA. Click links above for more detailed discussion.
1994-2018: Published 9 field guides in support of environmental education covering many of our national parks. Over 50,000 copies have been distributed for educational purposes from Alaska to The Bahamas.
2009-present: Began an inventory of largely unstudied subtropical Florida lichens in 2009. Click "Lichens" above for current status of this project.